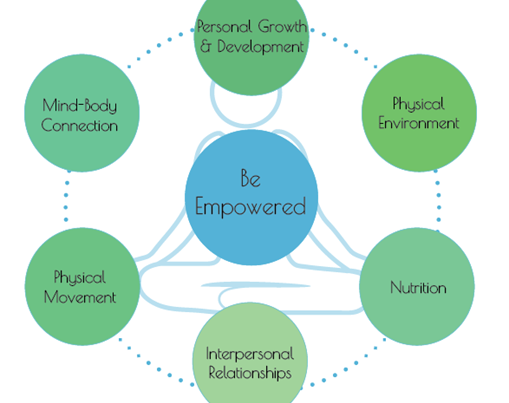 Welcome to my website, I look forward to going on a journey with each and every one of you, that will lead you to being healthy, happy and well. An important part of the journey is learning what in our lives causes us to go out of balance and the best ways to re-establish our equilibrium.
Life Balance Approach:
Be Balanced!
Simply Health's Life Balance Approach takes into account that each area of our lives affects how we feel about ourselves. In order to "Be Empowered," we have to learn how to keep each dimension of our lives balanced. It is essential to understand that when one of our circles (Physical Environment, Nutrition, Interpersonal Relationships, Physical Movement, Mind-Body Connection, or Personal Growth and Development) is affected the other circles need to activate to keep the circle in balance.
Real life vignette of getting out of balance:
This is a super embarrassing story but what better way to connect than to bare my own faults. Last Friday I drove from my home in Vail, Colorado to Boulder, Colorado. I was looking forward to having dinner with my son that evening, attending a board meeting the following morning and then heading to Denver to help my daughter move. Well… upon arriving at the hotel they could not find my reservation. At approximately the same time I received an email responding to an earlier message I had sent telling me I was in Boulder a week too early for the Board Meeting. I was already feeling like I was juggling too many balls in the air as I was working on setting up my business, taking care of my husband who just had back surgery and filming my first episodes for Snow-Motion, as well as keeping up with exercising, eating healthy and the myriad of other responsibilities we all have in our lives.
For a brief moment I stood at the check-in desk at the hotel in complete embarrassment and disbelief (tears brimmed momentarily). Wow, big mess up. A few deep breaths (Mind-Body Connection) and I arranged for a room at the hotel that evening, discovered I had some extra time and could go for a run in the beautiful 73-degree weather (physical movement) and could also be available to help my daughter for the entire next day not just the afternoon (Interpersonal Relationships). This sojourn also gave me some much needed "me" time.
It is difficult to balance all the parts of our lives but without the 6 dimensions in our lives we are not balanced. The goal is to use the different dimensions to take up the slack when one is lacking. Once I regrouped I felt Empowered and was able to face the rest of my day with confidence and humility.